De-oiling machine application:
The de-oiling machine is mainly used for dewatering or de-oiling units or individuals. The de-oiling machine has completely replaced the hard and laborious manual work. The machine is efficient and easy to operate. The mechanical de-oiling is of a processing speed tripled that of manual, and it really saves time, cost and labor.
De-oiling machine working principle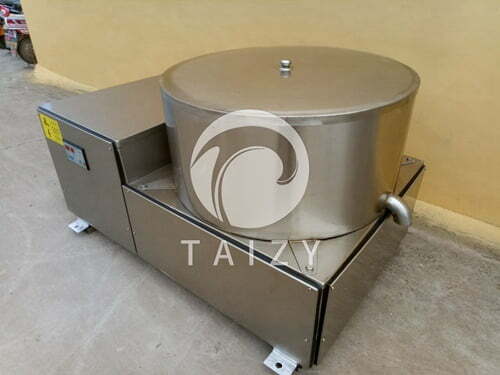 De-oiling machine working principle:
    Dehydrator, de-oiling, de-watering machine is technically supported by centrifugal method. The inner de-oiling de-watering barrel is driven by electric motor, during which, at the high speed rotating the water on the surface of raw material thorough centrifugal motion are spattered away through holes on the inner wall of the de-watering tank, so as to achieve the ideal dehydration effect.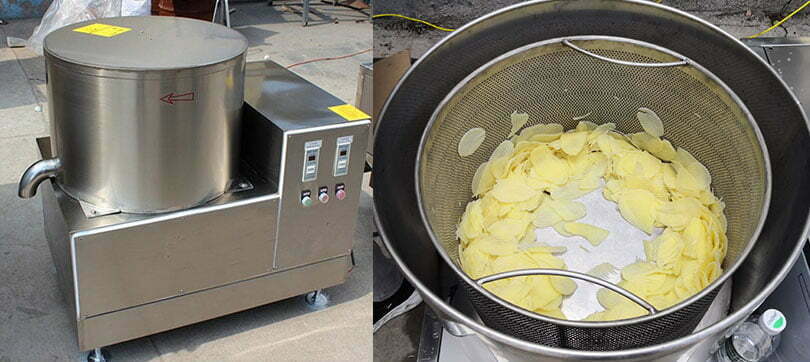 De-oiling machine machine construction:
The dewatering machine equipped with rubber shock absorber, can avoid damage caused by the vibration due to the unbalanced load in the de-watering drum. The enclosure is made of stainless steel, the chassis is cast iron, the outlet pipe is on the side of the barrel, and the base foot base and the column foot material are cast iron. The spindle system is made of high quality steel, equipped with two bearings and supported by thrust ball bearings at the lower end to reduce wear and save power. The dewatering machine adopts time controller to control the working time that can be set freely according to the dewatering requirement of raw materials.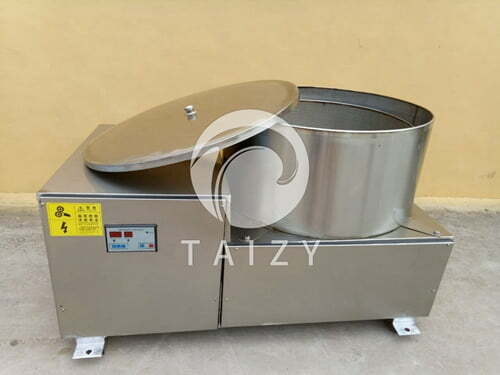 Maintenance of dewatering machine
1.The operator must be familiar with the structure, performance and operation method of the dewatering machine.
2.Feed raw materials evenly to avoid heavy vibration.
3.Do not open the top cover during normal operation to avoid accident.
4.Do not put anything on the top cover to avoid accidents during operation.
5.Regular maintenance shall be implemented in half a year–apply new butter onto mechanical parts.
6.The machine must be grounded!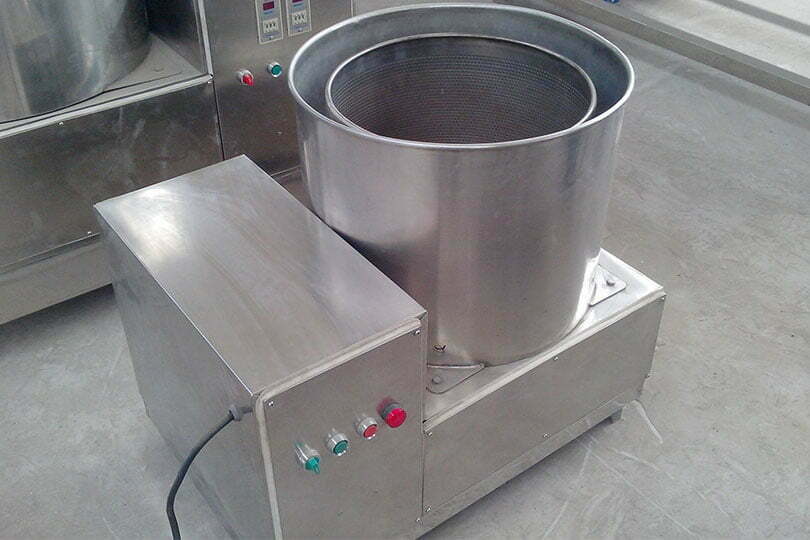 Principle technical parameter:
| | | | | |
| --- | --- | --- | --- | --- |
| Model | Motor | Weight | Capacity | Size |
| TZ-500 | 0.75kw/380v | 400kg | 80kg/h | 940x560x830mm |
| TZ-600 | 1.1kw/380v | 500kg | 200kg/h | 1050x660x930mm |
| TZ-700 | 1.5kw/380v | 600kg | 350kg/h | 1180x750x930mm |
| TZ-800 | 2.2kw/380v | 700kg | 500kg/h | 1280x820x1000mm |