Brief introduction of the roaster chicken machine
The chicken roaster machine is to roast chicken, which is common equipment at street, and it is also known as rock chicken roasting car. It is a special machine for making roasted chicken and snack with five rows or six rows one time. The heating mode of a chicken roaster machine can be divided into two ways such as gas-driven roast chicken oven, electric-driven roast chicken oven. Our roaster machine is new energy-saving equipment designed and manufactured according to market demand, being suitable for restaurants, canteens, and individual household, etc.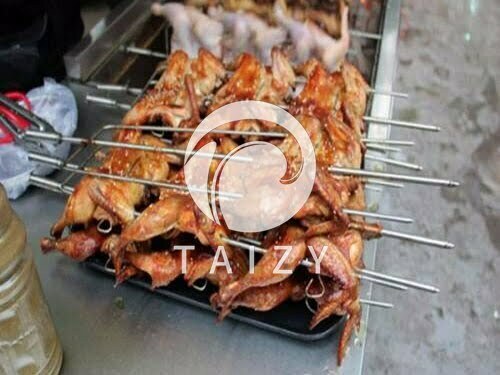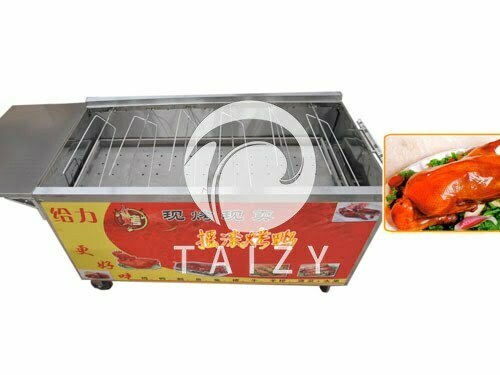 How to use a roaster chicken machine?
1. Check the power supply firstly
2. Take out the charcoal box of machine, add the appropriate amount of water to the inferior water box, and put the charcoal box on it.
3. Add the charcoal to a charcoal box and ignite it with fire.
4.When the charcoal is fully ignited without any smoke, put the chicken on the rotating equipment, and turn on the automatic switch to roast.
5.If the chicken color turns into yellow and there is no blood in the chicken, which means it is roasted well.
6. Add sesame, chili or other seasonings according to the taste of the customer.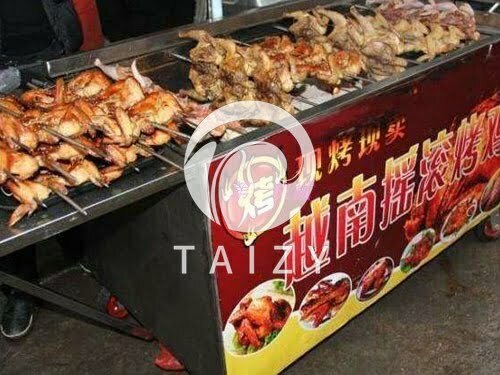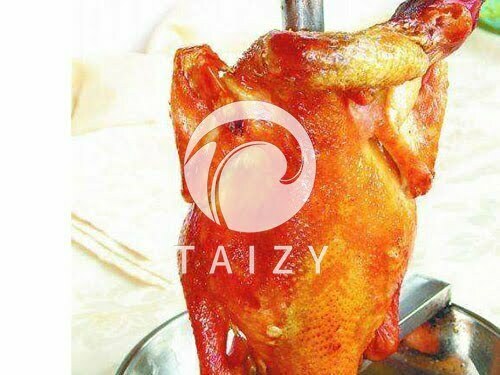 Prospects of roaster chicken machine
In recent years, roast chicken is popular among people and a growing number of roaster machines in the food market. It can roast 18 chickens one time with the profitable feature. The chicken roaster machine is rotated by a battery and comes with a chain.
You have many options towards working places such as stations, terminals, shopping malls, large supermarkets, commercial streets, food and beverage street, night market, industrial area, pedestrian street, schools, farmers market, tourist attractions, etc.
The most popular and lively place in the local city, the more people there are and the better the business you will have.
The chicken roaster machine is simple and easy to learn with a small investment but fast profit. You do not need to use advertising to advocate or rent an expensive shop. Moreover, you can make money at any time of the day.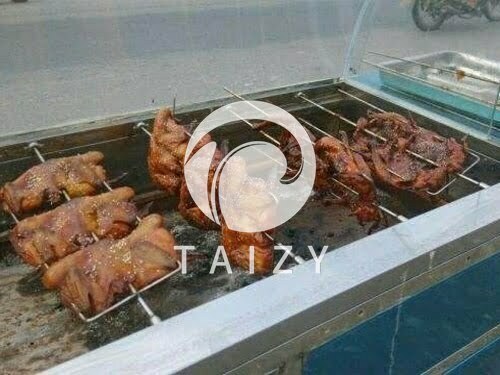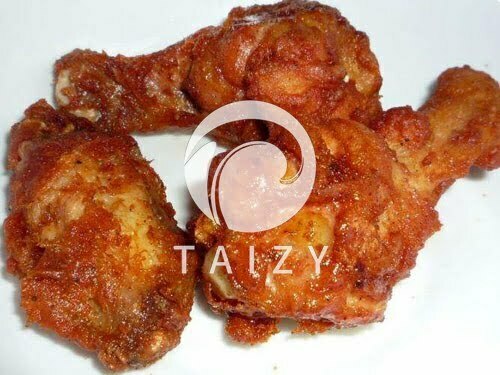 Advantage
1. The chicken roaster machine is made of high-quality stainless steel with temperature resistance, anti-corrosion
2.Unique design, easy operation, low gas consumption, and high efficiency.
3. Easy to move and maintain and wide application
4.Reliable quality and stable performance.
5.Pointer voltage display to ensure accuracy
The preoccupation
1. Do not open the chain wheel of the machine when using.
2. Do not reverse the positive and negative poles of the battery, otherwise, it will cause an explosion.
3. keep the ventilation in a smooth condition when adding charcoal.
4. Please keep the machine clean and not put the corrosive items inside the chicken roasting machine.
Successful case
The customer from Thailand bought 2 sets chicken roaster machine yesterday, and now we are preparing machines for him. His brother and he sells roasted chicken at street, so he needs 2 machines, one is for him; the other one is for his brother. His working location is near the train stain, and his business goes smoothly