Vegetable and fruit Air-drying production line brief introduction:
The air-drying production line is mainly composed of five parts, namely,hoister,drum cleaning machine,bubble washing machine,vibrating screen and air dryer. Whole production line with high capacity saves labor time and energy. All machines are made of 304 stainless steel, which is durable. They are fit for food processing industry. The aluminum alloy material used in the fan not only reduces the weight of machine itself, but also increases the aesthetics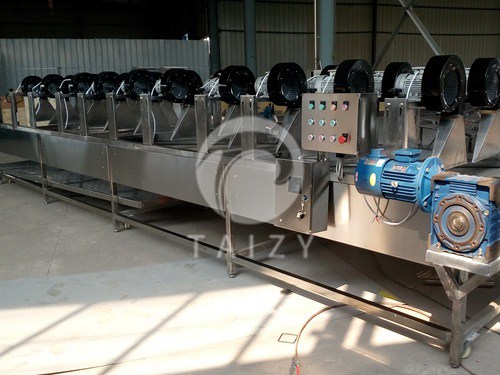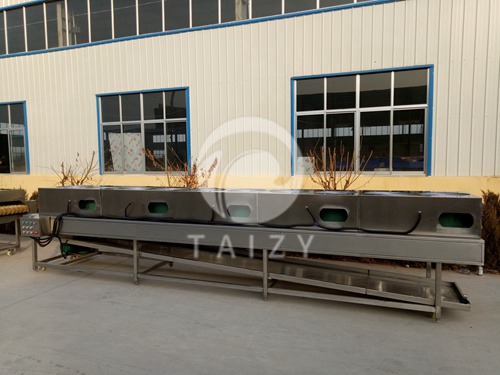 Vegetable and fruit Air-drying production line working principle:
1.Raw material enters drum cleaning machine through the hoister and then is cleaned .
2.They will be cleaned again by bubble washer machine
3.Vibrating screen removes large amount of water
4.Raw material is dried by air dryer. The surface of final product does not have too much moisture and can be stored for a longer time.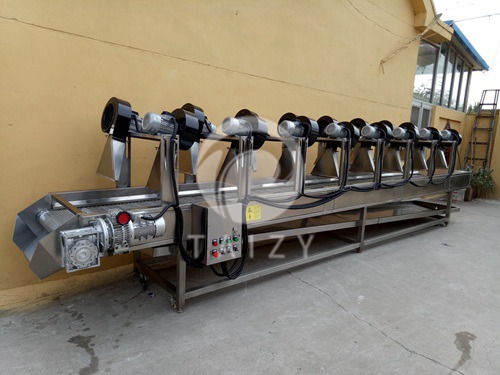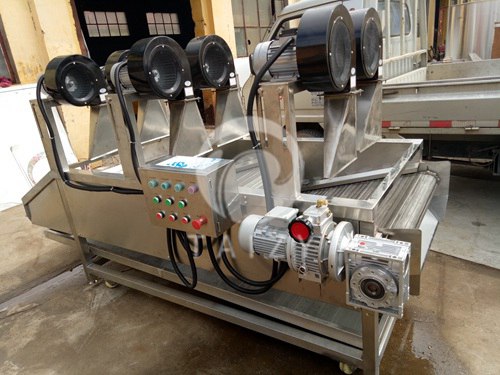 Vegetable and fruit Air-drying production line advantage
1.This dryer production effectively removes the water droplets on the surface of raw material, making the surface more vivid and shiny without any stains.
2. It greatly shortens time to label and bin, which is very suitable for production line operation and improves automation
3.Working temperature can be divided into normal temperature and high temperature that is able to effectively protect the color and quality of the raw material itself.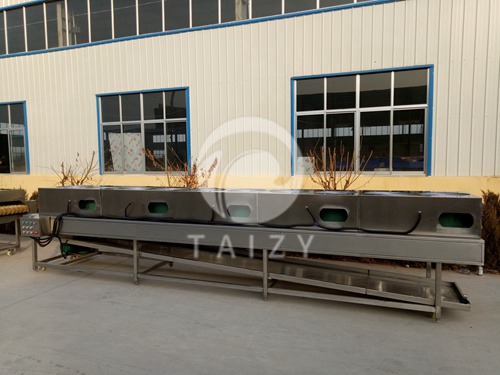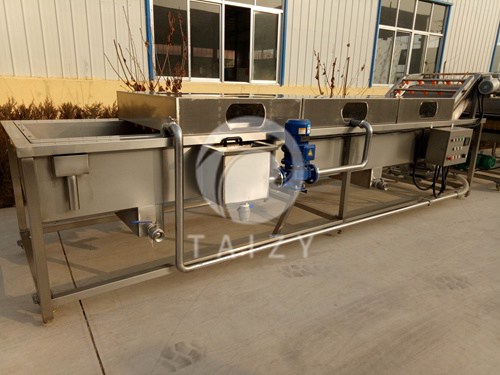 Vegetable and fruit Air-drying production line application:
This production line is good for drying vacuum bagged products with small-package such as high-low temperature meat and vegetable after sterilization. Raw materials after air-drying have a longer expiration date and are not prone to rapid breakage. In addition to drying water, this production line also can remove incrustation and oil stain,being equipped with stable technology and high capacity.
Vegetable and fruit Air-drying production line parameter:
| | | | |
| --- | --- | --- | --- |
| Model | Power kw | Dimension mm | Weight kg |
| TZ-4000 | 10.1 | 4000 x 1200 x 1600 | 420 |
| TZ-5000 | 13.6 | 5000 x 1200 x 1600 | 560 |
| TZ-6000 | 16.6 | 6000 x 1200 x 1600 | 620 |