Nut cracker is professional equipment for cracking shells. It is mainly used to peel all kinds of nut shells such as almonds, apricot, walnut, peach, hazel etc.. Its components include feeding hopper, roller, gravity separator, fan. This nut cracker has a compact structure, simple operation and stable performance, and it is also durable. Customers can adjust the gap to fit for different nuts with different size. The almond seeds can keep intact after processing. It can match with an almond gravity separator for shells and kernels as well.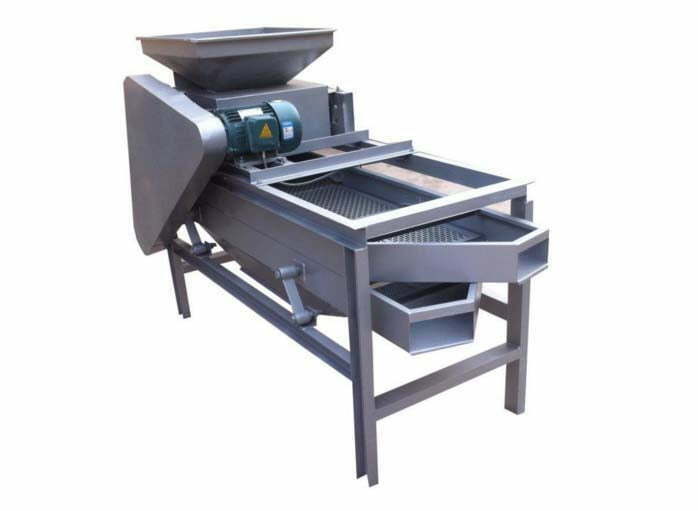 Advantage of nut cracker
Walnut cracker is easy to operate and maintain. It just needs one person during operation.
It is suitable for different types of nuts such as almond, walnut, apricot etc.
The machine has small footprint and is easy to form a production line.
High shelling rate. The shelling rate is more than 98%, which means all the nut shells can be cracked, and you can get very clean kernels.
The gap of the roller is adjustable to fit for nuts with different sizes.
Broken rate less than 1%. If you want to reach a better cracking effect, it is necessary to select nuts with the almost same size before the operation.
The nuts that still have full shell can be cracked again.
Rotary and adjustable rollers make this nut cracker suitable for nuts with diverse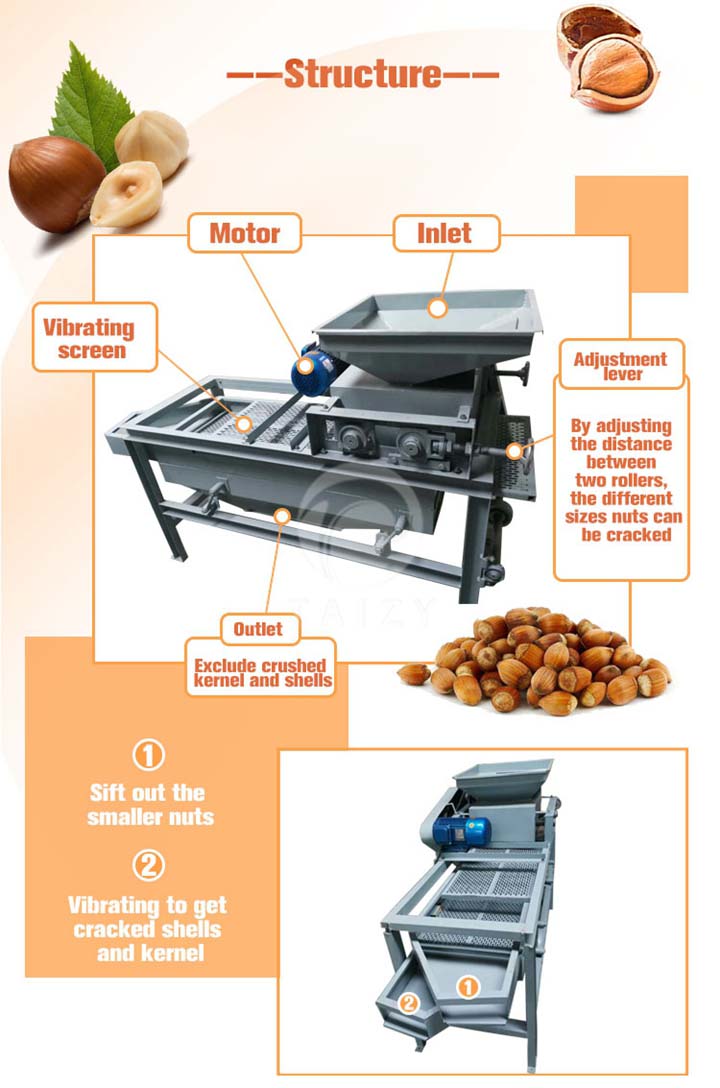 Technical parameter of nut cracker
| | |
| --- | --- |
| Model | SLBK-1 |
| Capacity | 400KG/H |
| Power | 2.2KW |
| Size | 200*110*45cm |
| Weight | 220KG |
Working principle of nut cracker machine
Place the nut with similar size into almond nut cracker.
The nuts fall down the gap of two rollers that constantly collide, rub, squeeze nuts
The shell and kernels are moving on the vibrating screen, and shells move upward, and kernels move downward.
Finally,they are discharged from different outlets.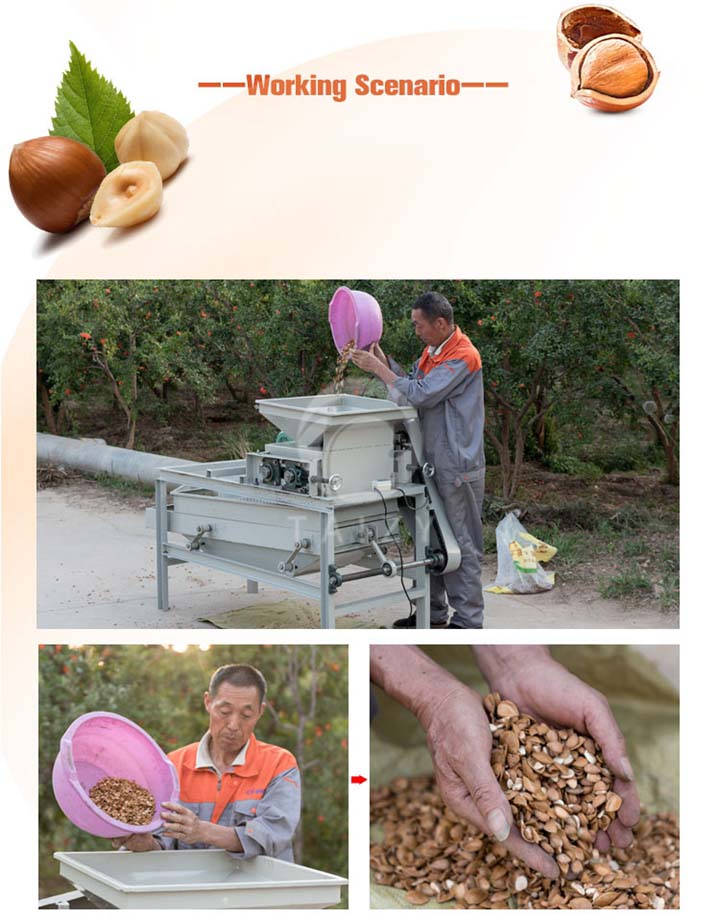 Successful case of nut cracker machine
We have a customer from South African sent us an inquiry at the end of March 2019, and he said that he has a nut processing factory, and wants to buy a black walnut cracker machine. To enable the quality of the machine, he came to China after one month (April 2019), and we picked up him at the airport and then brought him to our factory to test machine. He took some walnuts from South Africa because the walnuts in different countries have different sizes. Our worker adjusted the gap of rollers to fit for the size of raw material before the operation. After testing by himself, he was shocked by the excellent cracking effecting of this walnut cracker, and said that it is the machine that he really wants to buy for his factory. He paid the deposit for 5 sets machine when leaving our factory.
This walnut sheller brings big profits for him, so he ordered 10 sets again at the end of July, and he said that he wishes to build long-term partnership with our factory.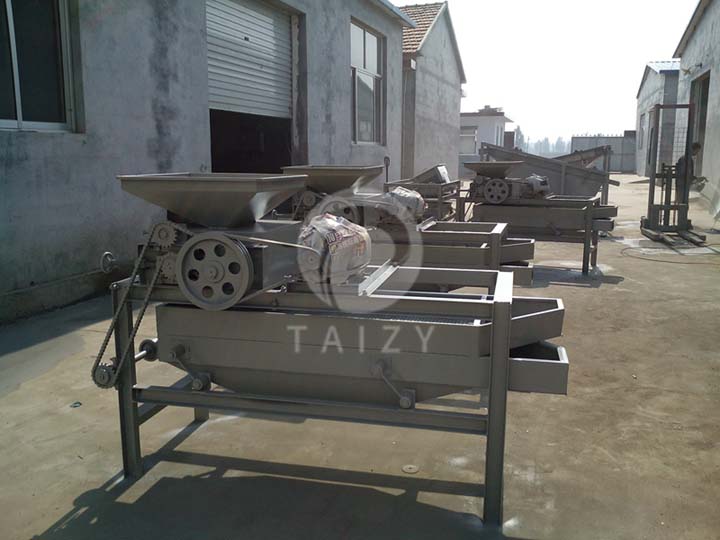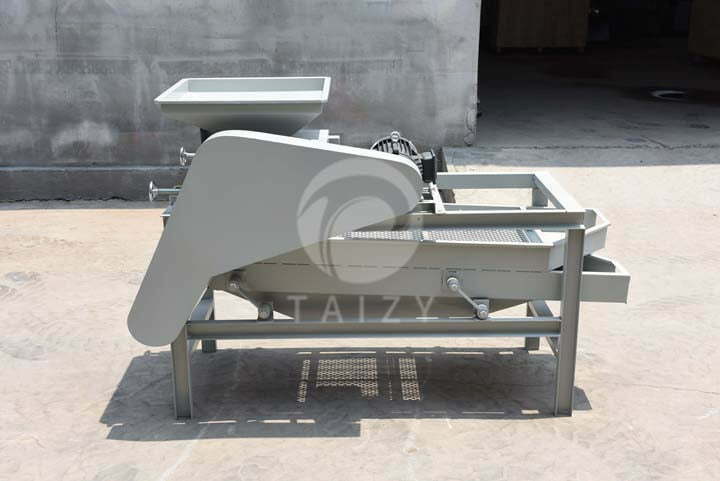 FAQ of nut cracker
What is the raw material of this nut cracker?
It can crack all kinds of nuts such as almond, apricot, walnut, etc.
Can I adjust the gap of two roller?
Yes, it can be adjusted.
Why most nuts still have the shell after processing?
Because the gap between the two rollers are not proper, and you shall shorten the gap between them.
Why there are many broken kernels?
Because the gap between two rollers is too close.
Can I crack the nut with shell twice?
If some nut with smaller size still has shell after processing, you shall adjust the gap of the roller and crack them again.
What is the cracking rate?
The cracking rate is more than 98%.
Last Updated on