Recently, the pita bread production line was exported to South Africa. The production line mainly includes kneading machine, pressing machine, molding machine, baking machine, cooling machine and other machines.
Arabic bread is a round or square thin bread baked at a high temperature. It is a popular product in the Middle East, Africa, Asia, and many other regions. Traditionally, Arabic cakes are made by hand. With the development of mechanical automation, automatic Arabic bread-making machines emerged and gained widespread popularity. The Arab cake production line provided by Taizy has been exported to many countries and regions. Today, we have sent a pita bread production line to Durban, South Africa.
What machines are included in the Arabic bread production line
The Arabic bread production line realizes the molding from flour to baking cake. A complete Arabic cake production line mainly includes a dough mixer, dough pressing machine, forming machine, baking machine, and cooling machine.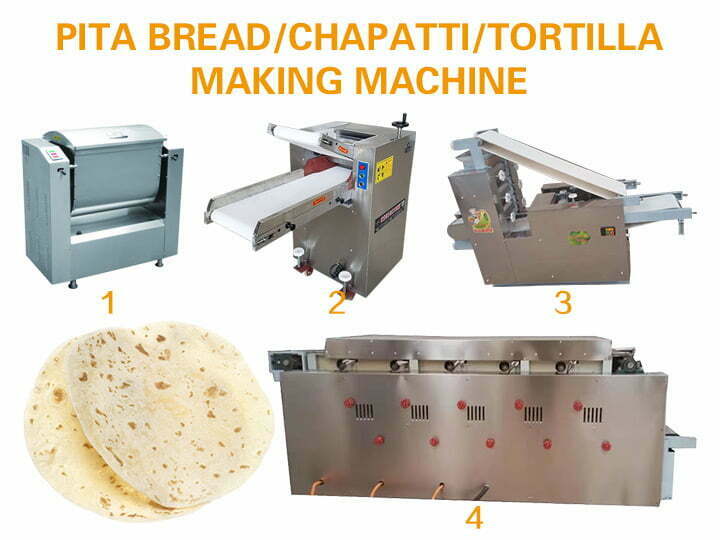 Kneading machine-used to mix flour, water, and other seasonings to make flour or dough.
Noodle Press-Roll the dough repeatedly to make the dough thin and firm
Arabian cake forming machine-use the mold of the forming machine to cut the entire dough into specific sizes and shapes of cakes
Baking machine-to bake the cut wafer slices to maturity, the toaster has electric heating and air heating
The cooler the temperature of the cake after baking is higher, and it needs to be cooled by a cooler
Order details for South Africa pita bread production line
Nigerian customers invested in the Arabic bread production in South Africa. Before, he used artificial production of Arabic cakes. In order to expand production output and increase automation, he wants to purchase an automated Arabic cake production line. He wanted an Arabic cake production line to produce three sizes of Arabic cakes, namely 10cm, 20cm, 30cm, with a thickness of 5mm. Then he would cut the produced Arabic cakes into long strips and sell them. According to his needs, we recommended suitable machines to him. After the Nigerian customer looked for his friend to visit the factory, he placed an order for a production line of Arabic cakes for us.
Pita bread processing machines export case