Momo making machine & bun making machine is a food machine that puts the fermented dough and mixed stuffing into the machine inlet to make buns. According to the user's requirement, it can be equipped with dough mixer, mixer, meat grinder, vegetable cutting machine, dicing machine, chopper, and other equipment.
Introduction of the momo making machine/bun making machine:
Multi-function momo making machine can be used for making soup dumpling, Chinese fried bun, vegetable bum, meat bun, buns, etc. It can make various food which is a multifunctional machine. Prepared the filling first and dough first, then put the dough into the dough inlet and put the filling into the filling inlet. Turn on the switch of this machine. The thickness of the bun, the speed of production, the amount of stuffing all can be adjusted according to user's need. The weight of the steamed buns ranges from 10 to 200g. The capacity is about 2000-3000pcs per hour. There are two models of this machine: a single bucket and double bucket. The difference is that the double bucket is suitable for changing the filling frequently. One momo making machine can produce momo different weights by changing the mold. After bun forming, it needs to be put into the steam box to steam. Work efficiency is equivalent to 8-12 workers working at the same time. The labor costs are now quite high, so the use of the machine greatly increases productivity. Automatic bun making machine is suitable for hotels, restaurants, schools, institutions, corporate canteens, bun processing plants, breakfast engineering shops and frozen food factories to use.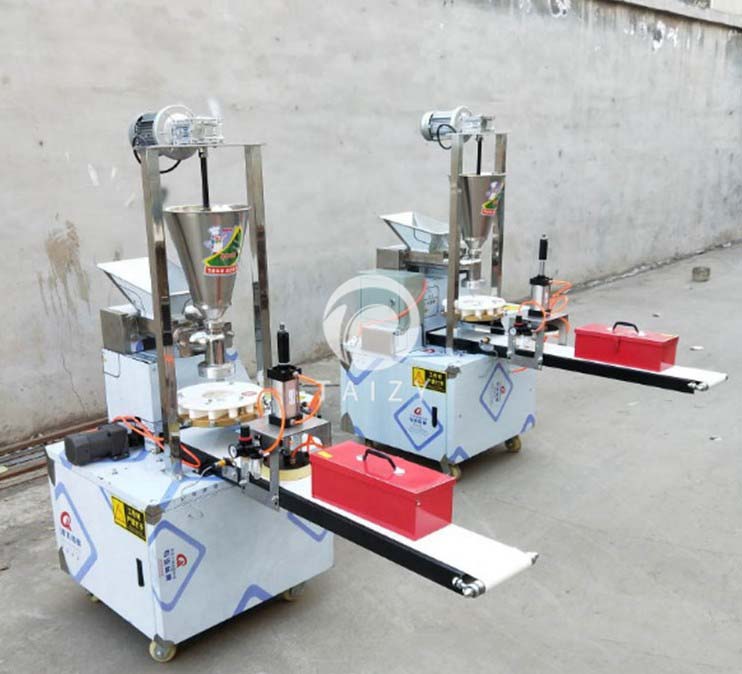 Characteristics of the momo making machine/bun making machine:
Improved slow-pressure conveying system with a larger conveying surface.
Improved scroll filling system for smoother and evener filling.
Double frequency conversion control. The amount of the dough and fillings can be adjusted freely. The momo making machine is easy to use and has high precision.
The momo maker has the features of the lightweight body, reasonable design, compact structure and easy to move.
The momo making machine is made of high-quality stainless steel which meets the requirements of national food hygiene standards.
Bun weight ranges from 10-200g. The mold can be customized according to user's need.
The momo is uniform in size and smoothes in the ace.
Customer use case in Greece:
There is a Greece customer named Kostas Papadopoulos, who wants to open a bun shop. He looks for this machine on Alibaba and contacts us. He needs 40g weight bun with meat filling. We customize the mode according to his needs. And then we test the machine and show the video to him. He is so satisfied with the finished product. Much Chinese travel to foreign cities now. So the momo making machine is a popular machine for the foreign city, especially for traveling city.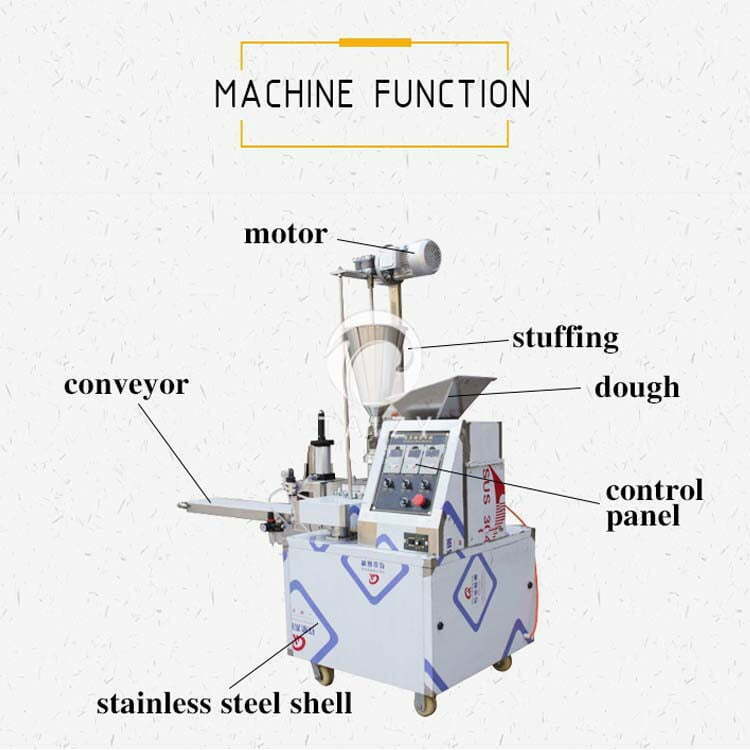 Technical parameters of the momo making machine/bun making machine:
| | | | | | |
| --- | --- | --- | --- | --- | --- |
| Model | Size | Weight | Capacity | Bun weight | Power |
| TZ-1 | 660*650*1500mm | 320kg | 2000-3000pcs/h | 20-200g | 2.76kw |
| TZ-2 | 760*650*1500mm | 430kg | 2000-3000pcs/h | 20-200g | 2.76kw |