Popsicle maker can make various flavors popsicles. Popsicles made by popsicle maker are thirst-quenching food that people all over the world like. According to different raw material and formulas, you can make a variety of delicious popsicles. Especially in the summer, people have more demand for popsicles, which is the hot selling season for popsicles. Popsicle maker is easy to operate, low cost and fast recycling, which is the first choice for entrepreneurs. You can choose different capacities according to individual need.
Operating procedure of the popsicle maker:
1. Carefully open the machine packaging, avoid violent vibration, beware of damage to the machine casing and internal parts.
2. Please check the power supply voltage. The power supply voltage should be within 10% of the rated voltage. If it is out of range, the machine will not work properly.
3. Air-cooled unit popsicle machine:In the process, the popsicle maker is necessary to maintain indoor air circulation, and keep the indoor temperature not exceeding 28℃, otherwise, the working pressure of the machine is too large to be produced normally. Start the compressor and saltwater tank agitator.(The correct steering of the mixer is clockwise).
4. Water cooled unit popsicle machine: When testing the machine, it should be connected to cooling water. The connection method of the cooling water of the condenser: the water is sent from the bottom and goes out from the above. When starting the machine, first turn on the cooling water of the condenser. The lower the temperature of the cooling water, the better, the water temperature should not exceed +28℃. Then start the compressor and salt basin mixer.
5. The salt water (calcium chloride) concentration in the salt water pool (normal temperature) is about 28%-30%. Determinate salt water concentration frequently. Strictly pay attention to the salt water concentration should not be too light or too thick. (The brined material should be prepared before entering the pool, and it should be cooled and filtered before it enters the pool).
6. Before making popsicles and ice cream, the salt water temperature must drop below -16℃ first,then put the mold to make popsicles.
7. After 10-15minutes, take out the mold. The popsicles are finished.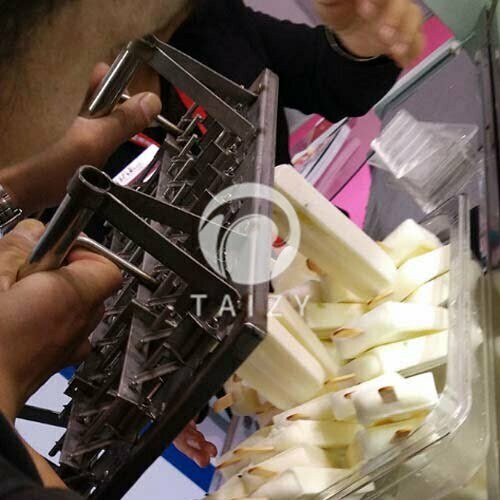 Features of the popsicle maker:
Brand high-efficiency compressor: fast cooling, low energy consumption.
The popsicle maker machine is made of stainless steel which meets the food industry standard.
Digital temperature display: which can adjust the temperature inside the box
Thick insulation layer which can save a lot of energy.
Universal wheel design: Easy to move
Technical parameters of the popsicle maker:
| | | | | | | |
| --- | --- | --- | --- | --- | --- | --- |
| Model | Size | Weight | Power | Capacity | Condensation mode | Refrigerant |
| TZ-40 | 600*400*960mm | 58kg | 1kw | 3000pcs/day | Air cooled | R22/R410 |