The meat dicing machine provided by Taizy has a wide range of applications. It can cut fresh and frozen meat into cubes. Dice size is 5~30mm.
The meat dicing machine is mainly suitable for fresh meat cutting, quick-frozen meat processing plants, and the pickled food industry. For example, it can dice pork, beef, duck, chicken, and root vegetables into cubes. The whole frozen fresh meat dicing equipment adopts SUS 304 stainless steel, with a beautiful appearance.It is designed and manufactured with advanced machinery and reasonable structure. The machine can achieve the aim of cutting meat into "dice", "julienne" and "slice" with a regular and neat appearance at a high working efficiency. The diameter of finished cubes can be adjusted within 5mm to 30mm.

Structure of restaurant meat dicing machine
The commercial meat dicing machine mainly composes of a pedestal, shell, sharing plate, vertical knife, cutter unit, transverse cutting unit, transmission system, and electrical control system.
This machine can be categorized into fish dicing machine and meat cutting machine, one-time shredded meat slicer, chicken and duck dicing machine, cooked meat slicer

Working principle of the commercial meat cube cutting machine
It is driven by high speed rotating.
Under the centrifugal force, with the aid of a vertical knife, the raw materials will be cut into slices, then be cut into chips through disc knife.
Finally, through the transverse cutting blade, the raw materials are cut into cubes or cuboid the gaps between blades are less than o.1 mm.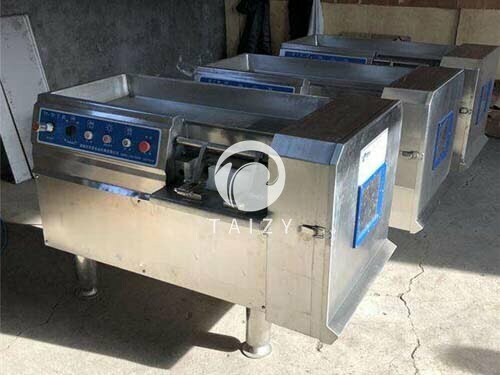 Characteristics of frozen meat dicing machine
Adjust the cutting thickness knob to change the pushing speed of the meat putter to meet the requirements of different cutting thickness.
Adjust the pre-pressure knob to make the cutting effect consistent in the cutting process.
Adjust the meat putter to step motion to reduce the extrusion impacting on the product during cutting.
One of the sides of the cutting groove adopts movable side pressure unit to facilitate feeding and improve work efficiency.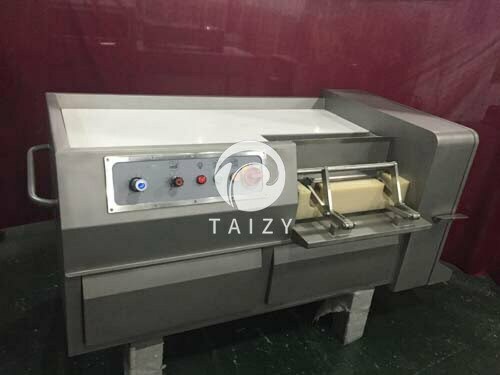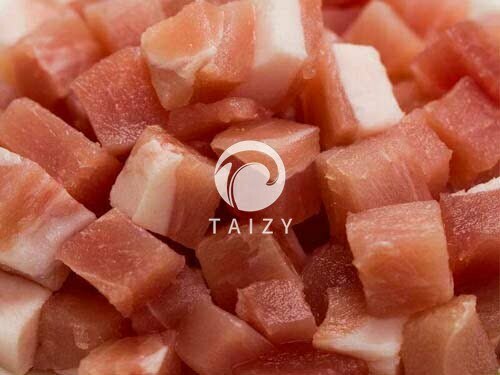 Advantages of industrial meat dicer machine
It is easy to install and disassemble.
Easy to operate, perfect design, adjustable knife speed, and automatic pre-compression system that ensures the smooth edges and surfaces of meat cubs on six sides.
Fresh meat does not need to be frozen in advance to ensure the high cutting effect of the machine, which can meet the requirement of uniform cutting of raw meat in various states.
Large degree compression before cutting, with cutting speed of 50-120 times/min.
Compact machine structure saves space, meat dicing machine parts can be easily disassembled, which facilitates the residue removing in the machining gap.
The machine made of SUS304 national standard stainless steel and is composed of a cutting tool and stepping propulsion system. It is powerful and durable.
Propelling, transmission and cutting knife are working synchronically, walking system and cutting knife speed can be adjusted by speed regulation.
The core parts of the machine, the drive system are of tightly sealed construction with the function of waterproof.
This equipment can cut fresh meat and semi-defrosted meat into chips and cubes of different sizes and shapes according to customers' needs and production requirement.
FAQ
[sc_fs_faq sc_id="fs_faqyu67fpzzr" html="true" headline="p" img="" question="1.What the raw material can be ?" img_alt="" css_class="" ]They can be fresh meat, frozen meat, all kinds of fruits and vegetables.[/sc_fs_faq] [sc_fs_faq sc_id="fs_faqib44tb6pq" html="true" headline="p" img="" question="2.What' s the thickness of the output?" img_alt="" css_class="" ]It is adjustable, and ranges from 5mm to 30mm.[/sc_fs_faq] [sc_fs_faq sc_id="fs_faq71se7hsaq" html="true" headline="p" img="" question="3.Why the raw material can not be fully cut?" img_alt="" css_class="" ]The rotation direction of the tray is inconsistent with the specified.[/sc_fs_faq] [sc_fs_faq sc_id="fs_faq4f2utqz5g" html="true" headline="p" img="" question="4.How to change the thickness of dice?" img_alt="" css_class="" ]Replace disc cutter and cross cutter。 [/sc_fs_faq]