The commercial potato slicer machine is used to slice the potato into thin pieces, and it also can slice sweet potato, cucumber, carrot, banana, etc. The thickness of raw material can not be adjusted, that is 2mm. There are two inlets including a small one and the big one, and you can choose anyone to place raw material according to their size. The shape of pieces can be divided into flat ones and waved ones, which is achieved by changing different bales.
Technical parameter of potato slicer machine
| | |
| --- | --- |
| Capacity | 600 kg/h |
| Dimension | 950*800*950 mm |
| Voltage /power | 1.1 kw 380 V |
| Weight | 110 kg |
Working steps of potato slicing machinery
The operator shall peel the skin of the potato before operation.
Place the peeled potato into the feeding hopper.
Under the high-speed rotation of two blades, the potato is sliced into small pieces
4. Put a container under the outlet to collect the pieces.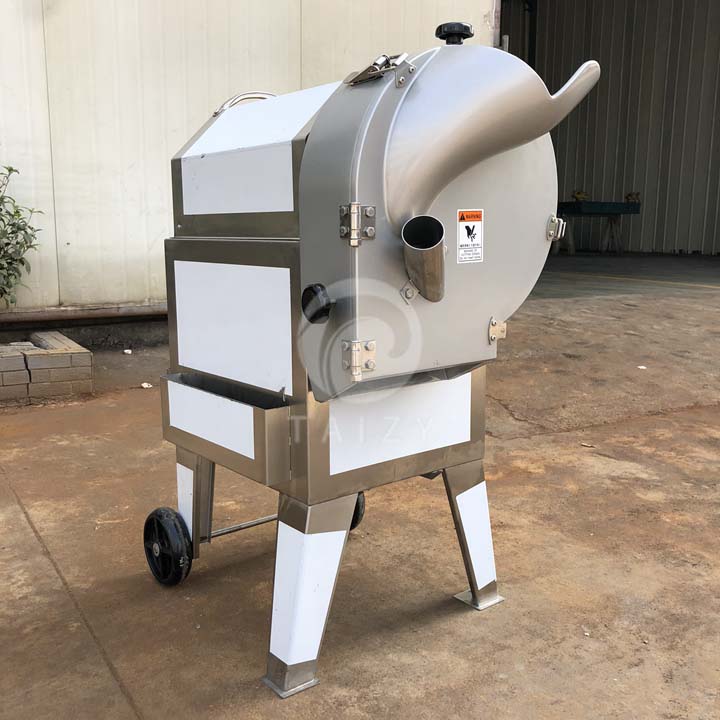 Advantage of sweet potato chips cutting machine
Almost all pieces are intact, and there are no broken pieces.
It is easy to change different blades by loosening the screw on the blades.
You can get two different pieces such as flat pieces and waved pieces.
The slicing speed of the sweet potato chip cutting machine is high, and the process won't cost much time and energy.
Cucumber slicer will stop at once if your hand opens the cover of the machine, and such a design can enable the safety of the operator.
The sweet potato chips slicer machine is made of stainless steel without corrosion and rust.
Wide application. It can be used for sweet potato, cucumber, carrot, banana, etc.
The sliced pieces can be eaten directly, also can apply to the restaurant.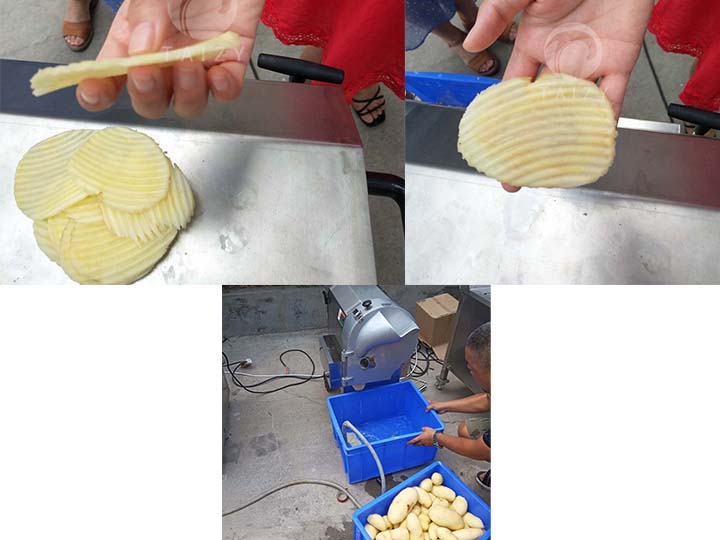 Potato slicer machine exported to Pakistan
This week we sold 2 sets of sweet potato slicers to Pakistan. And this customer bought it for individual use, who runs a restaurant and he needs it to make dishes with good look and great taste. The Pakistan customer needs to order a slicer for potato, cucumber, sweet potato, and other products. And he also wanted to cut the potatoes into regular potato chips and wavy potato chips. Therefore, we recommend this customer use this potato chip slicer machine. The potato chip slicer is suitable for a variety of materials. Moreover, it can be cut into different shapes and sizes by changing different blades.
FAQ
Do I need to clean the potato slicer machine?
It is better to clean it after all is finished.
How many blades inside the potato slicing machine?
There are two blades inside the machine.
Is it easy to change the blades?
Yes, you just need to loosen the screw on the blade.
What is the raw material for the potato chips slicer?
The raw material can be sweet potato, cucumber, carrot, banana, etc.
What is the thickness of small pieces?
The thickness is 2mm, and it can not be adjusted.
Do I need to peel the skin of raw material before slicing?
Yes, of course, as for potato, banana, or other fruits, you shall peel the skin of them before slicing. Therefore, I suggest you buy a peeling machine.
How is the slicing effect of banana slicer?
The slicing effect is very good, and we have sold many machines.
Do I need to buy extra blades?
It is better to buy extra blades, but actually, they can be used for a long time.
Why are there two inlets?
Because different raw materials have different shapes, a small inlet is fit for small and thin fruit such as cucumber and carrot.