Brief introduction:
The processing line of banana slices is composed of banana slicer, elevator, cooling equipment, air drying and dehydration equipment, frying machine, dehydration, deoiling machine, flavoring equipment, packaging equipment and so on. SUS304 stainless steel construction, fine workmanship, continuous operation, and has a one-time investment, low energy consumption, small footprint, ease of operation and maintenance, excellent quality finished products, bringing high profits.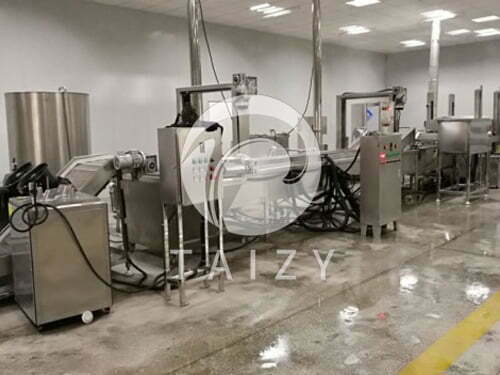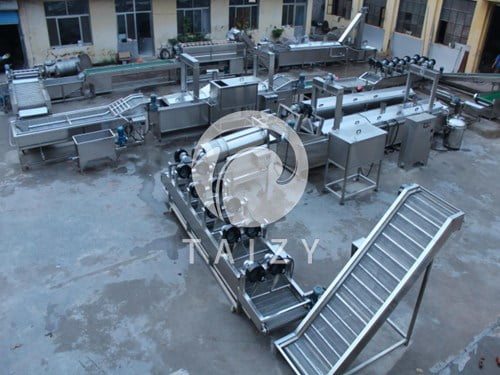 Banana chips production line:
The down-pressure slicing technology is adopted, the slicing thickness can be adjusted according to production requirement, and cutting angle can be customized. The processed slices of smooth surface, and breakage free, is the most advanced cutting equipment that applicable to chips processing includes: potato, sweet potato, turnip, carrot, cucumber, bitter melon, lotus root, eggplant, banana, pineapple, apple, lemon, yam, orange, onion, cassava and other vegetable or fruit slices.
It is composed of dip tank, steam valve, conveying chain and bubbling generator. After reaching the set temperature, the material can be poured in for blanching. Dip tank end is equipped with a conveyor belt for 30 ° ascending, and 1.5 m width spray pipe for rinsing and draining.
Avoid the troublesome manual feeding, thus make the feeding work safer, more time saving, and more labor saving. Reasonable and advanced design, easy operation and low maintenance, compared with the vacuum feeding machine, can avoid the chore of filter cleaning. The hoister is suitable for a wide range of food, plastic granules, powder feeding. Continuous frying machine:
The continuous frying machine is equipped with a mesh conveyor, which can achieve the effect of continuous frying and automatic discharging; Equipped with automatic lifting device, it is ease of cleaning and maintenance, simple and safe. The continuous fryer is suitable for frying banana chips, fried peanuts, puffed food and other products. At the same time, continuous production can be implemented to reduce labor intensity and avoid contamination caused by manual processing. With microcomputer automatic temperature control system equipped, the fryer can ensure product quality effectively. The water oil mixing method adopted, oil filtration and other frying methods are adopted.
The cleaned bananas need to be de-watered by vibrating. The vibration is generated by the exciter, so that the material can be thrown up on the screen and move forward in a straight line to reach the aim of removing water.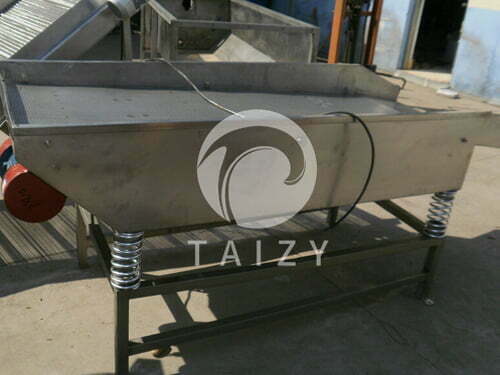 Roller seasoning machine is automatic, easy to operate with high output, uniform mixing effect, stainless steel construction, and the diameter of seasoning machine is customizable according to customer needs. It can be used alone or as the auxiliary equipment in banana chips production line. It can season and mix all kinds of food.
This equipment adopting the multi-overturn and air dryers is mainly used for dewatering material surface by the strong wind generated by the low noise fan with a trapezoid-shaped vent, at a room temperature coasting less power, thus effectively maintain the color and quality of the material. The air drying machine has the characteristics of wide application, high drying efficiency and easy operation, greatly shortens the packing time, is suitable for production line, and improve the degree of enterprise production automation.
Double chamber packing machine:
The double chamber vacuum packaging machine adopts advanced pneumatic system, which ensures the stable operation of pneumatic components. Equipped with movable truckle (with brake), it has good load-bearing capacity, making it easier for machine reinstallation. It has an adjustable conveyer, simple and convenient for operation, and adopts the external pumping vacuum structure of double cylinders and double air nozzles, so that the pumping (vacuum) speed is faster. Thus the freshness of food and the shelf life are extended.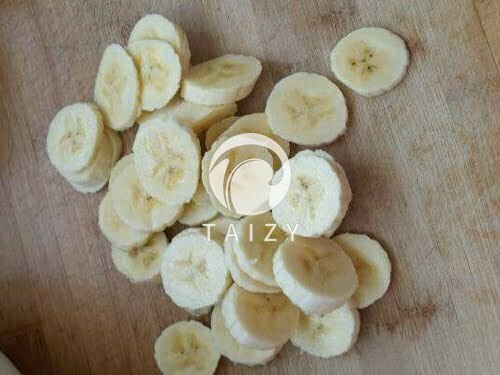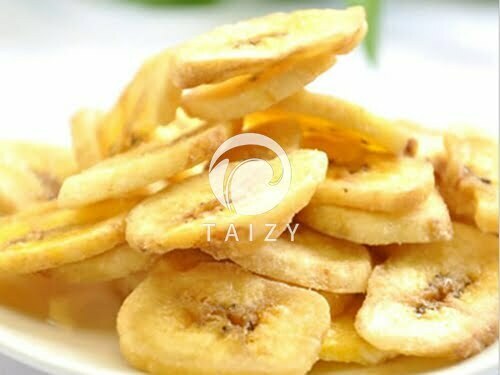 Features of banana chips production line:
1. The whole set of equipment is mad of national standard 304 stainless steel, which makes the machine rigid, durable and rustproof. The mesh belt is also made of stainless steel, which is pollution-free and in line with food hygiene requirements. The mesh belt works smoothly and has a long service life.
2. There are three types of feeding ports for banana slicer. There is no specific limit on the size of bananas and the cutter can be applied to other fruits and vegetables for cutting and slicing.
3. Wide range of application, the multi-purpose machine of banana chips production line can also be used in processing line includes apple slices, pineapple slices,kiwi slices and other fruit slices and can also process all kinds of snacks. And as a multi-purpose machine, it is of high output, and suitable for bulk production and processing.
Last Updated on