The hydraulic oil press machine is a device that presses some raw materials into the It has the characteristic of simple process and easy operation. This machine can make pure oil without seepage. The hydraulic oil press machine is mainly composed of a barrel, cylinder, handle, hydraulic handle, pressure relief valve, grease nipple, etc. This machine is made of high-quality metal materials to improve machine performance and ensure component service life.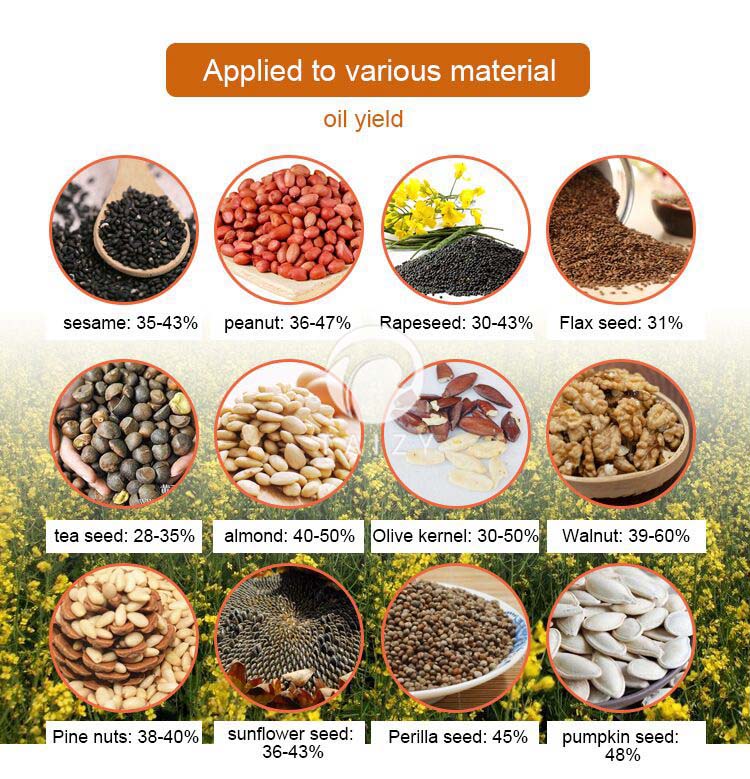 Introduction of the hydraulic oil press machine:
1.Wide application
Hot press material: Sesame, flax, peanut, rapeseed, wheat germ, corn germ, etc.,
Cold press material: Walnut kernels, pine nuts, almonds, olives, macadamia nuts, camellia seeds, etc.,
Condiments: Pepper, mustard seed, etc.,
2.Good oil quality
Pure physical pressing with high oil yield. It will not produce temperature during cold pressing, therefore the organic components of the oil will not be destroyed. It has the characteristics of good oil quality, low impurity, and wide application range.
3.Easy to operate and high efficiency: Mechatronics design with a w failure rate. The high degree of automation, it needs 8-10 minutes for one time pressing. It has Beautiful appearance and is easy to operate. One can operate 3-4 sets.
Use of the machine hydraulic oil press machine:
Turn on the power and check that the indicator is working properly. When using the machine for the first time, the pump station lever is placed in a horizontal position. Continuously turn on and turn off the machine ten times to evacuate the gas in the pump station. Turn off the machine and turn on the thermostat switch.
Put the level to the vertical position, turn on the power. When the piston in the barrel is raised until the platen can be taken out, turned off the switch immediately.
Note: Do not raise the piston too high. Remove the pressure plate and do not move any other parts in the barrel.
Open the top cover, put a cotton pad, then pour the fried material(or not fried material)into the barrel. Put another cotton pad and the pressure plate, then close the top cover. Finally, put the level to the vertical position, start the switch, and start the oil press.
Under normal circumstances, the machine will automatically stop when gauge pressure reaches 55 ( 50 ) MPa, and it will automatically work when gauge pressure reaches 40MPa. Repeat 2-3 times. Turn off the switch. Put the level to the horizontal position for about 20 seconds and then re-position it to the vertical position. Open the top cover and the main switch. Take out the oil cake and put the level to the horizontal position. The machine can continue work when the piston declines to the bottom.
Note: The hose on the back of the machine is connected to the back pipe and pump station on the back of the main unit, which is to prevent the hydraulic oil from flowing out when the piston is raised too high.
Technical parameters of the hydraulic oil press machine:
Model
TZ-150
TZ-180
TZ-230
TZ-260
TZ-320
Size(mm)
400*500*250
500*650*1050
600*850*1360
650*900*1450
800*1100*1550
Weight(kg)
250
750
1050
1400
2000
Max

Pressure(Mpa)

55
55
55
55
50
Temperature(℃)
70-100
70-100
70-100
70-100
70-100
Tank capacity(kg)
2
4
8
11
15
Power(kw)
0.75
1.5
1.5
1.5
2.2