Brief introduction
Taizy Machinery has introduced a multi-function vegetable cutting machine, which can be used for cutting vegetables and fruits into strips, filiform shape, slice, or small bulk, etc.,
The final product is favored by our customers. The cutting machine can work continuously for 24 hours, bearing high waterproof performance, stable machine performance, and convenient operation.
It is applicable to food factories, clean food processing, restaurant chains, and corporate canteens, etc.
Working principle of Vegetable cutting machine
The multi-function cutting machine adopts to frequency changer to independently master control panel with a multi-function integrated setting, which can adjust the speed of the cutter and conveyor belt according to your needs.
Multi-function vegetable cutting machine Classification of raw material:
1. root vegetables: potato, taro, sweet potato, melon, bamboo shoots, onions, eggplant, leafy vegetables, celery, cabbage, spinach, etc.
2. Leafy vegetables: The raw materials are transported by the conveyor belt. The speed of the blade and the belt are controlled independently by the frequency converter. The length of vegetables can be adjusted from 1 to 60 mm.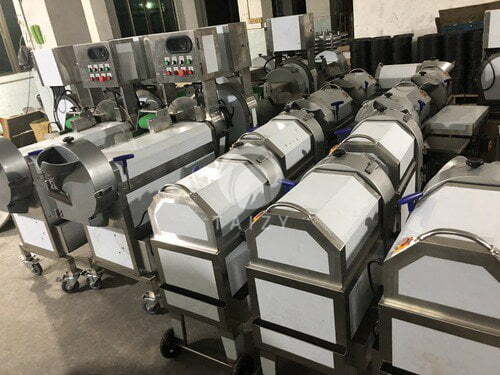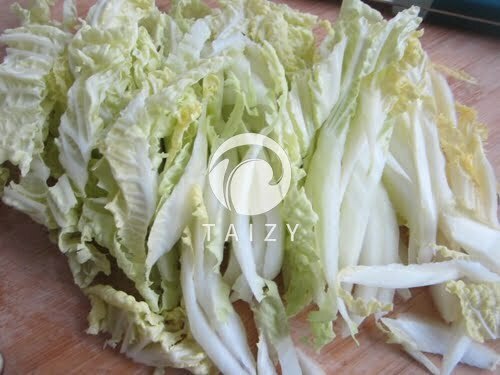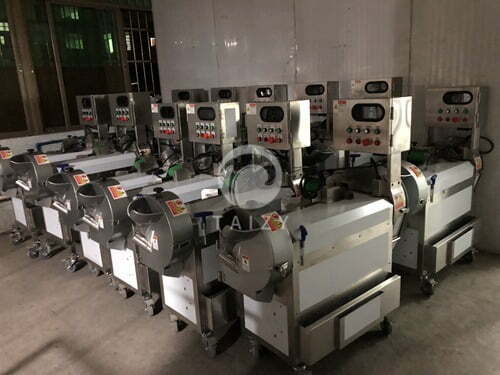 Advantage of Vegetable cutting machine
1. it is a multi-purpose machine, and suitable for leafy and root vegetables, cutting vegetables into different shapes;
2. The length of the raw material can be adjusted according to different needs;
3. high efficiency, saving labor time;
4. Double frequency conversion, it  can change the frequency conversion mode according to requirement, which is more energy-saving;
5. with a safety control system, it can effectively protect the safety of the user;
6. The whole machine is made of high-quality stainless steel, which meets the export food standards and fully adapts to various complicated environments;
7. thoughtful design, reasonable structure, long service life.
Multifunction vegetable cutting machine export case
The vegetable cutting machine is welcomed by our customers because of its convenience and multi-function. And most customers who bought the machine placed a second order. We have exported the cutting machine to the united states, Morocco, Spain, Portugal, etc.
Recently, we have exported the machine to Panama. The Panama customer bought a watermelon peeler two years ago. When he used the peeler machine for the first time, he did not know how to use the machine. We sent him the instruction manual and machine operation video. He was very satisfied with our service. In the later use, he used it very smoothly without any problems. Later, his restaurant needed to expand, and he needed to buy a vegetable cutter for workers to use. He asked us again, after confirming the price and transportation, he quickly placed an order, and the machine is currently in production.