Roller cleaning machine brief introduction:
The roller cleaning machine uses circulating water to clean the product, mainly preventing secondary pollution. The roller adopts gear transmission, which runs smoothly and greatly reduces the failure rate. The expiration date of the motor is one year with lifetime after-sales maintenance. Pump with large-flow circulating water has high stability. The sprinkler pipe is made of seamless steel pipe for durability. The outer box of this roller washer machine is a hexagonal shape with plexiglass on the side for observation. The inside of the roller has a brush plate that is driven by roller, and the upper part has two sets of spray water pipes. Brush plate and spray can realize full cleaning.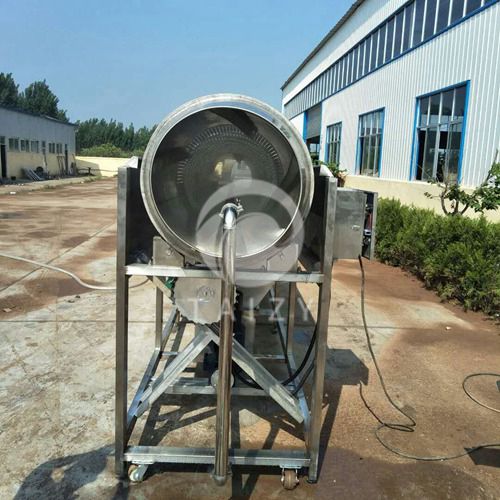 Roller cleaning machine features:
1. The roller cleaning machine has a unique structure. The raw material is sprayed and cleaned in the spiral roller. Impurities with small size flow out from the water tank through the mesh, which can fully clean raw material and is easy to operate.
2. The speed of the roller rotation is controlled by a variable frequency motor. The cleaning speed is adjustable and the effect is good without any damage to raw material. This machine also can be used with vibrating screen and air dryer
3. It is made of 304 stainless steel, mainly composing of the motor, gearbox, brush, rotary roller and nozzle.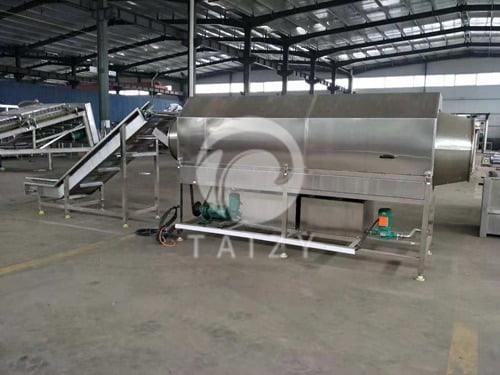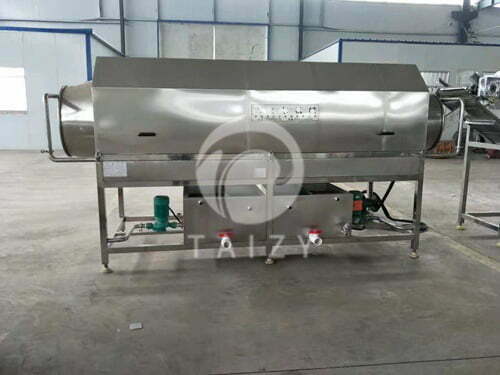 Application of roller cleaning machine:
1. The rotary roller cleaner is suitable for oval fruits and vegetables such as cassava, ginger, carrots, etc.
2. It is equipped with high capacity(500kg / h).
3. This roller washer machine adopts imported high-quality nylon wire and has high elasticity, acid and alkali resistance and great thermal stability.
4. Nozzle with high-pressure spray pipe can realize the best effect.
5. Use a wear-resistant brush to remove the deep skin of vegetables and fruits. The surface of raw material after peeling is very smooth.
6. When vegetables and fruits are rotated in the roller, high-pressure water spray can thoroughly clean all parts of raw material.
7.. Washing with high-pressure water can thoroughly clean the dust attached to the surface of vegetables.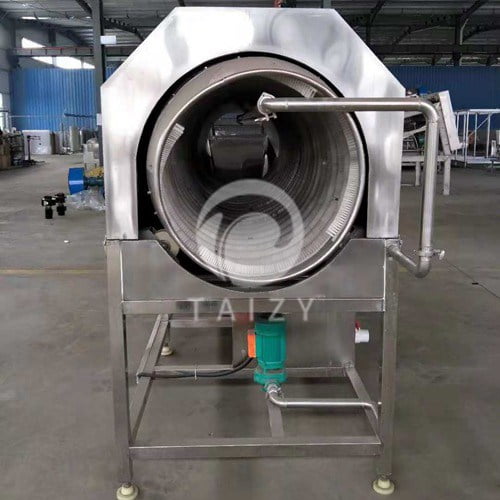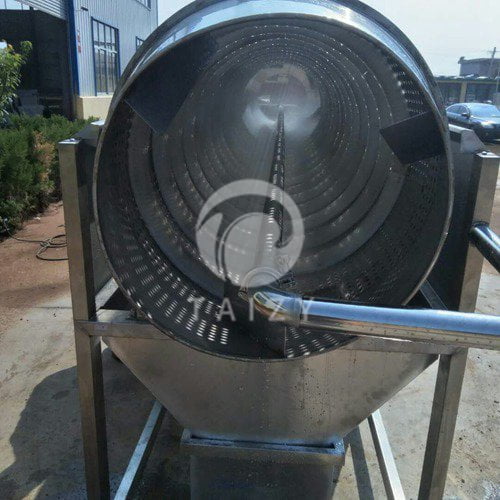 Application:
| | | | | |
| --- | --- | --- | --- | --- |
| Name | Weight | power | dimension(mm) | capacity |
| Roller cleaning machine | 680kg | 4.75kw | 4000*1000*1600mm | 500kg/h |