Brush cleaner peeler product introduction:
Brush cleaning machine also known as hair roller cleaning machine is suitable for processing carrots, potatoes and other root vegetables. The food-grade belt and brush are adopted realizing food-grade convoying and cleaning, the use of rotary brush with high-pressure spray can achieve great cleaning effect of removing the stains from the surface of fruits and vegetables thoroughly.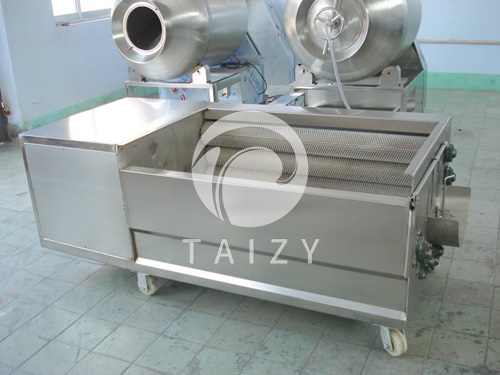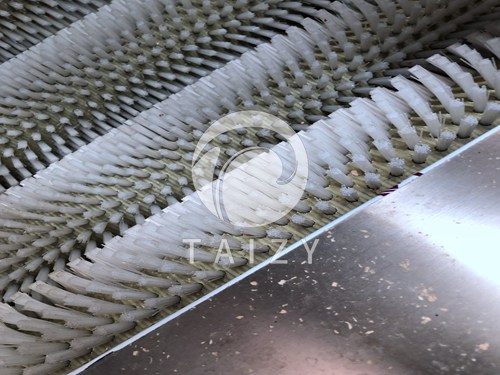 Brush cleaner peeler Structural features:
The electrical components of brush washing machine for food, developed by Taizy Machinery co., LTD. are made of 304 stainless steel.
Waterproof electrical appliances are adopted to avoid fire accident due to work in damp environment.
Electrical appliances are equipped with overload protection, leakage protection device, to guarantee the safety of operators.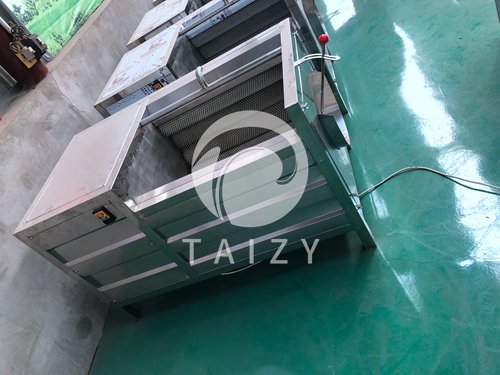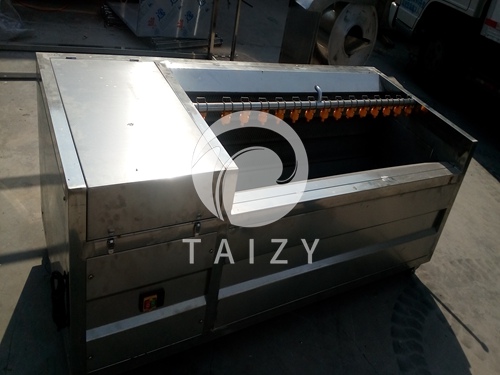 Brush cleaner peeler Advantages:
With large effective volume, the cleaning and peeling machine is of high efficiency and water saving effect. Continuous cleaning, simple operation, long service life, etc.
Through special processing, the brush roller of the washing equipment is durable in use and is of good wear resistance.
Brush cleaning machine is the integrity of advanced design and manufacturing skill of domestic and foreign root crop processing machinery, adopting roller cleaning principle, and is widely applied to raw material processing of carrots, yam, potato, sweet potato, etc. The brush cleaning machine has the characteristics of small energy consumption, small volume, light weight, beautiful appearance and easy operation. The enclosure of brush cleaning machine is made of high quality stainless steel, thus the brush cleaning machine is of good corrosion resistance, clean and hygienic, and its rollers made of nylon are deformation resisted and durable in use.
Taizy brush cleaning machine meeting export standards can reduce labor cost. Plus, it is of excellent performance guaranteed by Taizy's research and development, and technical department.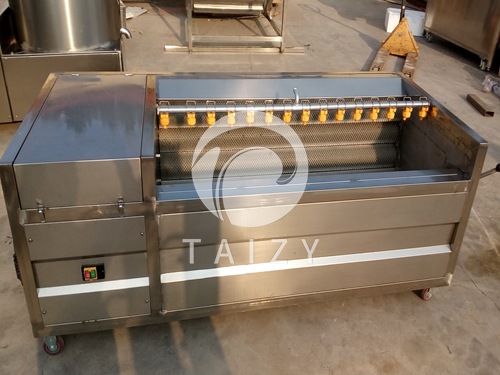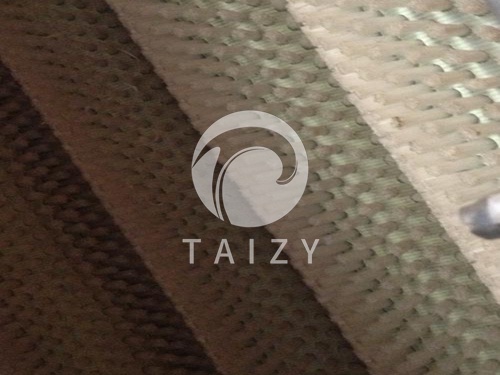 Brush cleaner peeler Scope of application:
The rush cleaning machine is widely applicable to crop washing and cleaning of process line including carrot, potato, beet, potato, sweet potato, potato, etc.
Brush cleaner peeler Parameter:
| | | | |
| --- | --- | --- | --- |
| Model | SL-1 | SL-2 | SL-3 |
| Capacity | 1000-1200kg/h | 1500kg/h | 2000kg/h |
| Power | 2.2KW | 3kw | 4kw |
| Dimension(mm) | 1800*860*850mm | 2100*860*850mm | 2600*900*900mm |
| Weight(kg) | 300kg | 360kg | 420kg |
| Machine construction | 304 Stainless steel | 304 Stainless steel | 304 Stainless steel |